Sirius Vapors: Blueberry Coffee Cake
Juice: Blueberry Coffee Cake
Vendor/Maker: Sirius Vapors – http://www.siriusvapors.com/
Info: ??/?? PG/VG – 18mg nic
Pricing: Varies for 15mL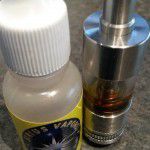 After a bit of a hiatus, and a couple more displeasing juices, I've decided to give bottle number two out of three from Sirius Vapors a shot. Let me just start by saying that Blueberry Coffee Cake has proven to be much more pleasing than my last experience. This review will be rather short and straight-forward.
Initially, the bulk of the cake flavored is carried on the inhale, and quickly followed by the strong blueberry flavor. The flavoring here is mixed well, but I almost feel that the cake aspect is lacking a bit. Typically, if it's a bread, or bakery inspired/themed juice, I really having a heavier cream or cake flavor as the predominant base. What's more forgiving in this case, is how well the blueberry flavoring is done, even if it is a bit overpowering. The blueberry flavor itself has a nice, slightly sweet taste on its finish, while still retaining an overall solid fruit flavor. It's worth noting here as well, that the vape itself is a bit cooler, and that may be because of the mild cake base.
Once again, and on par with the last juice from Sirius, steeping is a must. My usual two weeks was the beginning of the process in this case. It's been a little over a month of steeping now, and Blueberry Coffee Cake has reached its prime, with a definite change in coloration, and a bit of an increase in thickness. Steeping has definitely helped out with flavor in a big way. The cake aspect was almost non-existent when first trying this juice out of the package, but has since come through to what I'm guessing is the full potential.
Delivery medium wise, this has been an eerily similar story to my last. With tanks, I received poor results with a BCC Mega, Puritank, and Vivi Nova V3. I didn't even bother with drippers here, as I was already frustrated and didn't want to go through another hour of different coil configurations. Once again, the AeroTank has prevailed. For some reason, the wide open airflow is the only way I've gotten any decent results on Sirius' juices. This was odd to me once again, as Blueberry Coffee Cake wasn't listed under Sirius' "Max VG" line, so I assumed a roughly 50/50 mix, and better performance in tanks. Either way, this juice hasn't been a great friend to bottom coils.
In conclusion, this was the second juice I've tried from Sirius Vapors, and this was surprisingly pleasant, especially after my last experience. I do recommend Blueberry Coffee Cake, but with some reservation, especially after all the delivery mediums I've ran through in testing. I'll be back with one final review of Sirius juices within the week, along with some new stuff from new vendors.
Share this post