Vaperite: Dragon Slayer
Juice: Dragon Slayer
Vendor/Maker: Vaperite – http://www.vaperite.com
Info: 50/50 PG/VG – 18mg nic
Pricing: $9.99 for 15mL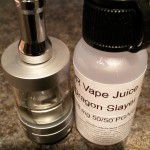 Good evening vapers. This will be more of just an honorable mention type of quick review. On a recent trip to my local Vaperite store to purchase some of Sirius' juices for my previous reviews, I came across a new blend titled Dragon Slayer, which consists of berry flavors throughout. Pomegranate, dragonfruit, and acai berry make up this new Dragon Slayer juice.
Straight to the point, this is a cool and light vape, contrary to what you may think just from hearing it's title. The mix of berry flavors here is very well done, and all aspects blend nicely together. The initial hit brings in the majority of the dragonfruit and pomegranate flavors, which hold pretty constant through exhale in my experience. I've noticed most of the acai berry flavoringDragon Slayer Bottle just after exhale, with a bit of an almost dark raspberry making an appearance in aftertaste. The aftertaste is just a bit sweet, but not overpowering.
So far, I've only used one delivery medium with Dragon Slayer, and that's been an eLeaf iJust tank. I've gotten some consistently good results, with a nice amount of vapor produced at 3.8 – 4.1 volts on 1.8 ohm coils. I haven't had a great opportunity for steeping, but the 5 or so days that did happen, helped a slight bit in terms of flavor.
Overall, I enjoyed this bottle of Dragon Slayer, although I ran through it quickly. It was familiar ground, as this juice was slightly different from many others I've sampled from other vendors, but still worth a mention none the less.
Share this post