Vapor Bomb: Hypnotic Mist
Juice: Hypnotic Mist
Vendor/Maker: Vapor Bomb – http://vaporbomb.com/
Info: 30/70 PG/VG – 18mg nic
Pricing: $5.95 for 10mL (.59/mL)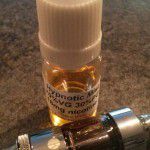 Lately it seems like I've been coming across an assortment of vaping gems through absolute randomness. I had never even heard of Vapor Bomb, and through some magic of the internets, I stumbled across their site after reading a forum post on mods, and seeing an ad elsewhere. Either way, this has become my new favorite method for trying out new juices. First up from VaporBomb.com is Hypnotic Mist, which is described as "Complex and intriguing, sweet but gentle."
As I wouldn't typically order a juice that had no flavor description or reviews on its creator site, this seemed, for some arbitrary reason, like a decent buy that was worth trying out. If it isn't obvious from my earlier posts, it only takes a little to grab my attention, whether it is a unique bottle, label, flavor, slogan, whatever. This time, it was "hypnotic." On to the juice!
Upon arrival, Hypnotic Mist had a very light, clear/yellow coloration, and its initial aroma was that of a faint banana and an almost juicy fruit gum scent. Next came my usual two week steeping period, and after ample time, I'm very happy with this juice. Coloration has darkened significantly, and the juice has thickened up a bit as well. I still can't seem to pinpoint an exact ingredient/flavor mix when vaping, but my findings are as follows…Hypnotic Mist
The inhale is extremely light, and you hardly feel like you're vaping anything at all, which is surprising for the amount of vapor produced at 30/70 PG/VG. There isn't an overly defining flavor on inhale, but a very slight cool banana seems to be there. Exhale is excellent, with the slight banana flavor morphing into a juicy fruit esque gum, and an amazing finish of what I can only gather to be Hypnotiq liquer. This is one juice that's really kept me guessing throughout, and giving me an absolute fit of pinpointing flavors for an accurate review. This will sound borderline insane, but I get the sense of rain on exhale. It has to be something in the flavor layering that gives this juice a sensation that I've never really tasted anything close to before. With no real description on Vapor Bomb's site, I feel odd, but correct, in saying that the title is accurate for this juice overall. It really is an intriguing, Hypnotic Mist.
Delivery mediums that have played well with Hypnotic Mist have been mostly along the tank lineup, including Vivi Nova, V3, V8, Protank I & II, and T3S. With all these DCT tank style setups, I've had good, and similar flavor results, with PT II giving the best overall, and producing some nice clouds at 2.2 ohms and 3.8 volts. Once again, it's kind of shocking how much vapor you get from this juice, as you really don't feel the inhale or have a big throat hit, even with a higher VG ratio.
Hypnotic Mist has been one very complex, and satisfying juice that still leaves me guessing from time to time on what the exact mix is. Give this one a try, as you will definitely be intrigued, and may find yourself a new favorite.
Share this post