Vapor Bomb: Jungle Juice
Juice: Jungle Juice
Vendor/Maker: Vapor Bomb – http://vaporbomb.com/
Info: 30/70 PG/VG – 18mg nic
Pricing: $3.95 for 5mL (.79/mL)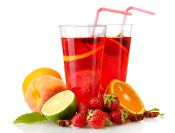 I recently received an order from Vapor Bomb, and was happy to find a new and unique flavor. I'd have to say that I'm equally happy with the second part of my order as well, and feel that it deserves a mention. Jungle juice is described on Vapor Bomb's site as "A wonderful, fruity blend that will have your taste buds rolling."
After my first vape of Jungle Juice, I immediately was hit with a flashback to my college days. This flavor is a dead-on tribute to a favorite party drink of years past. Jungle Juice, to me, is a great vape of rum punch, with a bit of cool menthol.
The aroma of Jungle Juice, upon opening the bottle, is that of a strawberry and dragon fruit mix. The initial inhale is a very cool strawberry flavor, with the menthol aspect being apparent, but not overpowering. The exhale is where Jungle Juice really shines, and leaves an unbelievably pleasant aftertaste. Taking Vapor Bomb Jungle Juice bottleover the strawberry flavor, is a very well done dragon fruit, with what tastes like a hint of pineapple and pomegranate that completes the exhale, and leaves a very clean aftertaste, with just the right amount of menthol. This is another juice in which menthol has been incorporated very well, and really rounds out the latter part of the vape. I'm always wanting a pleasant aftertaste with any juice I vape, and Vapor Bomb's Jungle Juice does it to perfection.
As far as delivery mediums go, I've actually only used the Vivi Nova (pictured), as I received a few in a previous order. I'm getting some pretty solid results at 3.8 volts on a 2.2 ohm coil. Vapor production has been moderate, and I haven't achieved clouds, but also haven't given Jungle Juice a run in any of my other tanks/cartos/drippers, etc.
Definitely give this one a try. Jungle Juice is very unique, and wonderfully layered juice.
Share this post