Pink Spot Vapors: Rip Tide
Continuing on with my random juice acquisitions, up next is Pink Spot Vapor's Rip Tide. I was out a couple days ago doing some Halloween shopping, and noticed a new vape stand had popped up, called 3lixir (http://www.3lixir.com/). They had a nice assortment of juices available at the retail stand, and it looks like 3lixir's website is being progressively updated, as I believe they are pretty new.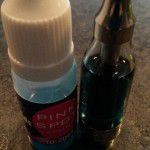 I've had a few of Pink Spot's juices before, and am very happy to say that I've found another new addition to my growing stock of all day vapes. Rip Tide is described on Pink Spot's site as "A blend of fruit flavors including Blue Raspberry and Strawberry with a hint of cool menthol." The title is spot on, and although I've posted in regards to blue-raspberry juices before, this one is totally different, and very well done.
Rip Tide's initial inhale starts off with a cool blueberry flavor, with the cool aspect being very prominent, and layering well with the blueberry flavor, which is that of a half candy and half fruit flavor. On exhale, the blueberry morphs into a very pleasant raspberry taste, that I'm having trouble nailing down to a real world counterpart. The raspberry flavor comes on strong during exhale, and is about a ¾ candy and ¼ fruit flavor. Being a big fan of Pink Spot Rip Tide bottlementhol usage, I've been very impressed by the layering on exhale. The cool aspect of Rip Tide is predominant throughout the entire vape, and leaves you with a very clean aftertaste, with just the right amount of mint. The cool mint flavor itself is always prominent, but never overpowering, so naturally, I'm hooked. Overall, Rip Tide tastes like a cool raspberry slushie to me, and I doubt that I'll tire of this juice anytime soon, as it's flavoring is so well done. This is another juice that I feel like some Cool Hit is being used in, to complement the menthol.
As far as delivery mediums are concerned, I've been using a Vision Victory tank, and am getting some great results at 4 volts on a 2.2 ohm coil. Rip Tide doesn't have a listed PG/VG ratio, but I'm going to guess higher PG rating, along the line of 70/30, as this juice isn't very thick(yet), and carries an amazing amount of flavor.
Definitely give this one a try, especially if you're a fan of fruit and/or menthol. This is one of the few juices I've found so far that carries a sweeter overall flavor, yet is great all day long. Plus, it's blue!
Share this post