Sirius Vapors – Arnold Palmer
Juice: Dark Lizard
Vendor/Maker: Lizard Juice via vapecrunch : https://vapecrunch.com
Info: ??/?? PG/VG – 12mg nic
Pricing: $12 for 15mL (.80/mL)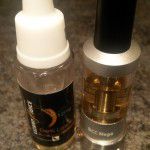 A few months back, I had made a post on a couple juices from Lizard Juice, and have another variation of their Lizard Milk e-juice, which was pretty good the first time around, so I figured the chocolate version would be worth a shot. Consisting of coconut milk, pineapple, rum, and chocolate, it's a nice change up from the original Lizard Milk.
The initial inhale of Dark Lizard is cool, and medium-bodied, and carries a majority of the chocolate flavor. I was a bit skeptical at first, as I always am with liquor drink inspired juices, but the chocolate aspect is very well done and not overpowering. It really blends well with the pineapple and coconut flavors on exhale. In this variation of Lizard Milk, the pineapple taste seems a bit more amplified, and the coconut is a nice offset as well, giving a slight Mounds bar flavor. Just after exhale is when I get some light, but noticeable rum hints that linger around for a while, and blend nicely with the chocolate flavor that's prominent throughout the entire vape
Dark Lizard has played well with most delivery mediums that I've thrown at it, including T3S, Vivi Nova, ProTank II, and a Nimbus Clone. Currently using the AnyVape BCC Mega, and getting some great results. Vapor production is impressive at 4.2 volts on 2.1 ohm coils. As with most of my bottom coil tanks, I typically remove a bit of wick prior to filling, as that always seems to do the trick on preventing dry hits.
I've let Dark Lizard steep on and off for about 3 weeks, and there hasn't been much of a coloration or consistency change, still light orange and very thin in consistency, basically the same as when I opened the package. Flavor, on the other hand, has had a noticeable improvement. The chocolate and rum aspects have become much more full flavored, and have a more prominent role in the juice.
This was a nice variation on the previously reviewed Lizard Milk, and I've ran through the bottle pretty quickly as well. I believe this makes about the fifth juice I've purchased from LJ, and have been happy with them all. Definitely worth trying out for yourself.
Share this post